Tuesday, May 03, 2005
And The Winner Is....
Ethel 'Pay at the Pump' Smith!

Congratulations Ethel and Dave. Right after the show we've chartered a private C-5 to take you two lovebirds on an exciting 10 day vacation in fabulous Addis Ababa, the Capital of Exotic Ethiopia. Afterwards Ethel will return home with you where she will cook and clean, as well as help write posts to your blog that you dictate to her.Isn't she a dream Dave? She's all yours, so enjoy!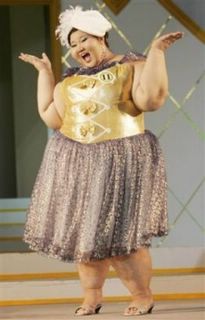 Ethel busts a move prior to her embarrassing 'Wardrobe Malfunction' at the show's final dance routine.
Dave
was later rushed to the hospital in serious condition after she mistook him for a barstool.
posted by El Capitan at 1:10 AM

---
0 Comments: