Thursday, May 25, 2006
The New Air Force Uniform... Part II
Earlier this week I shared with you
the latest prototypes
for the new Air Force Service Dress uniform. Some folks like it, others don't, but that's about how it works in the military.
A friend of mine sent me their take on the new uniform design. It is by far the best commentary I've seen on the issue.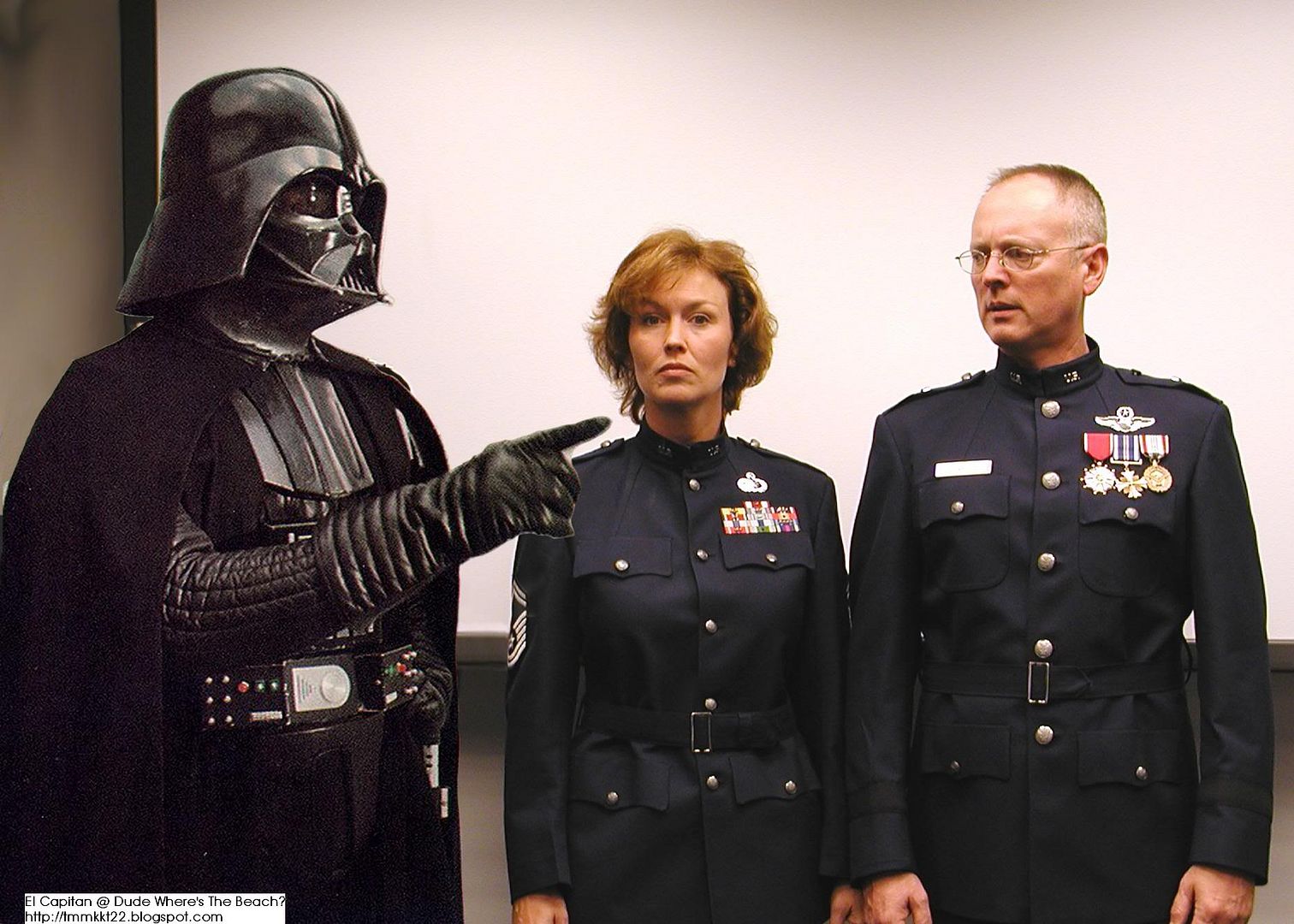 'Commander, have those Star Destroyers attack Al Ramadi at once!'


posted by El Capitan at 11:02 AM

---
31 Comments:
Nice uniform, but certainly not as nice as U. S. Marine Corps Dress Blues.
6:50 PM
These uniforms are the most convincing argument I've seen for why gays should be let in the military... These folks would be in for numerous limp-wristed slaps.

Taste, people!
12:43 PM
They look like WWII Nazi uniforms...
9:48 AM
I think the air force should have SS officer type uniforms, I'd like that when I join the USAF.
2:54 PM
AF apologizes for Army-like uniform by creating hybrid Marine/Eddie Rickenbacker sack. Next try, Star Trek and pocket full of tribbles!
9:49 PM
Who thought this one up? This Air Force uniform, most certainly, dose not depict a modern military style. It looks very uncomfortable as well. Someone had their head where the sun doesn't shine. I agree this looks like a WWII Nazi uniform. This uniform is in bad taste, period.

Ten to fifteen years ago there was a proposal for a very modern and well looking USAF Dress uniform that that adopted some Navy and airliner pilot characteristics. The blouse had no epaulets and the officer insignia was silver braid on the sleeve, very smart looking.
8:14 PM
It looks like something out of starship troopers! I agree with SGT Steve - USMC Dress Blues with the Blood Stripe look way better! But then again nothing beats the USMC...
11:38 PM
looks like a really bad knock off of the marine corps dress blues. of course now the army is changing they're class B uniforms and completely getting rid of class A's.
2:58 PM
I hate these new uniforms! What was so wrong with the old ones that some idiot with too much time on his/her hands thought they should design new uniforms to look like something you would expect from an old Nazi documentary. I'm almost expecting Hitler to appear beside them.
11:56 AM
complete rip off dress blues and dress whites....the enlisted patch ruins it...
1:26 PM
I like them! But if you are going to approximate WW2 Nazi uniforms and or Imperial Fleet uniforms why not go all the way? The Allgemeine-SS uniforms where the best! Just remove the red swastika armband and put some U.S. insignia on the shoulder boards and the collar patches! It would look great! ;)
8:07 PM
Viva La Empire!
7:15 PM
If you Marines new anything, then you should know that the Army had that uniform First. Imagine walking down the street and seeing a dude with odd color blue pants with a red stripe downt he sides and then a super tight black jacket. Yeah, real sharp. That's why there are so few of you. Enjoy your commericals. Oh wait you guys are color blind! I've never met a guy in the Air Force that said he should have joined the Marines, can you say the same? Nope! Aim High and Step into the Blue.
12:03 AM
At least the marines know how to spell knew
12:34 AM
Heh, if you knew anything about the marines, you would have the dignity to make it a capital "M" instead of just "m."
4:58 PM
Waaaaaa...they look like this...waaaaa...they look like that...waaaaaa...I got sand in my undies from the beach....My hat is off to the idiot that said they looked like Nazi uniforms...I take it off to hit him with it...They are designed on the WWI Flight officers jacket...

No anonymous here....
11:03 AM
I like them, though I always thought that your caps never looked as good as the navy's or the marines. My suggestion would be to use white material.
P.S. You should use a white one for your summer dress uniforms.
2:30 PM
Honestly, the new uniforms have a terrible design. Now my guess is that some idiot college student who majored in history thought that the WW1 uniforms for the Royal Flying Corps were appropriate for the 21st Century USAF. Next, why don't we make the Marines wear tri corn hats, or perhaps have army wear shakos or fur hats? This retro-modernism design craze that has become prevalent in the US Military has become ridiculous. Honestly one of the best redesigns for the USAF uniform that I ever did see, was for a short period in the 90's and it closely resembled the uniform of the RAF, instead of being a pseudo-army uniform(don't lecture me on the USAF's Army Air Force roots). The Air Force, should look like the Air Force, and it's distinctive nature should stand out.
12:09 PM
Well if we're going to get a new blues uniform they could save some time and money and just copy the Battlestar Galatica blues uniform -those actually look cool and they already exist so no extra design fees. Plus they were modelled on old style US Calvary uniforms so if the USAF is looking for retro but cool then this fits the bill. Otherwise they will just look like a bunch of goose stepping morons in this new blues uniform - yikes! They need to borrow the USMC designers for their ABUs....or again just save money and go with multicam which works in every environment and is definitely distinct...or gosh they could've just stayed with BDUs since no one else is using them and saved a ton of money....but then someone would still be looking for a promotion bullet! I'm out!
9:59 AM
I say, keep our uniform, but add a button to make 4, tighten up the collar a bit, do smaller versions of the hap arnold style pockets, add a black stripe to the pant legs, and viola.... Conservative changes, conservative dress, very professional, militaristic, and non-business-suit-ish.
10:50 PM
To whoever said nothing beats the USMC. i have 3 words for you. Air Force Pararescue.

(So others may live!)
3:54 PM
That is definitely the truth. Not even all those SEALs they tried to put through the PJ training could make it. Thank God for PJs.. saving our dumb, pilot, asses... :)
4:17 PM
Those uniforms are horrible. They look uncomfortable as hell. And of course, the Marine Corps dress blues are better than those ugly little turd nugget uniforms. And the Air Force with all those people would probably still get their asses beat by the Marine Corps regardless. Brain beats brawn, yeah right, how can you think when I'm punching your fucking brains in?
9:38 AM
whatever fag boy, SEALs would fucking tear PJ training apart...bitch BUD/S is the hardest training in the world, mentally and physically. Dont believe what you see on TV about SEAL training. PJ training is hard but half of those fags would pass out on our runs, humps and swimming. We do extended stays unlike those fags.
9:49 AM
I like how this discussion has devolved into yet another, my-service-is-better-than-yours argument. If you had half a fucking brain you would understand that we're in this together. That is, unless you are a one man army, in which case you will be quickly and summarily killed by our enemy, you need the support of everyone else in the other services. If you forget who the real enemy is, you should just shoot yourself in the face right now to save everyone else the trouble of hauling your dumbass back from the line.
10:04 AM
didnt say my branch was better, just said my unit was. Trust me, it is. And thank you for clarifying because I have never seen combat in both campaigns, Iraq or Afghanistan. Thank you...dipshit.
11:31 AM
ok I am supportive of all branches of the military however if you have not seen any combat action and want to criticize those who have then you need to step back because the front lines are the ones keeping all of us safe. However all of you on the front lines you need to realize that your butts are being watched. All branches of service are protecting our freedom and although I am greatful to each of them I think that we need to stop bullshitting around with who's unit/branch is better than the other and start looking at more important things. Like who the hell the real enemy is. One branch is anything without the other that's why each branch has their own specialty areas to help support the others. Got it guys.
6:30 PM
This is great information. I appreciate the sincere appreciation. Thank you. Great tips! Great organization and ideas. Thanks! Really great info, it motivates me to do something extra ordinary.

Army News Zone
1:15 AM
A very, very poor idea! Anyone out there have an idea what office is responsible for this tragedy? A WWI high neck collar will be uncomfortable and a WWI style belted jacket will look sloppy after repeated wear. Looks like the guys that used to run out and wipe your windshield while the others pumped gas and checked your oil. My father looked great in his WWII AAF Captain's dress uniform and dammit I looked pretty good in my USAF Captain's 1963-70 blue Class A uniform too. Again, that new high collar job is a discrace to our proud heritage!
9:11 PM
This looked like a joke at first sight. I thought it was some goofy neo-nazi outfit. And for those not in the know, Hitler designed most of those uniforms based on old U.S. designs, well that wasn't our fault. To make that A.F. look Nazi is beyond me. What next, complete skinhead black uniforms and white boot laces for Marines?!
11:24 PM
First of all, why does it matter if it looks similar to the WWII German uniforms. We are not them so we don't have to try to not be them. Second of all... How is this gay? I dont like the wrinkles under the females belt but other than that I think it looks kinda futuristic. I like it.
3:18 PM