Tuesday, May 03, 2005
Welcome to the Garfield Ridge Dating Game
Dave
over at Garfield Ridge
has a passion for Reality shows
, so he's decided to go out on a limb and start his own. Welcome to the 1st season of "
The Garfield Ridge Dating Game,"
where you'll see one of these lovely ladies get the chance of a lifetime...
to become a love interest, housekeeper, and typist for Dave at Garfield Ridge!
Each of these ladies has been prescreened for intelligence, cooking and typing skills, and most important, circumference. Since
Dave is a man of the world
, and he
Blogs
like a dashing jet-set Playboy, why not give him something representative of this
very large
world we live in.
Let's meet the finalists!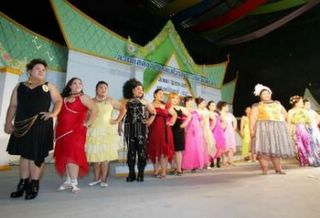 posted by El Capitan at 1:20 AM

---
1 Comments:
Toni said...
I saw a snip of this on the local Fox affiliate. I just pretty gaped slack jawed.
2:41 PM