Monday, June 12, 2006
8 Hours in New York City - Part I
One of those great things about being in the Air Force is that you get to travel often (if you're lucky). Last time I was in Baltimore/D.C. I noticed that New York City was only 189 miles away, so I promised myself I'd make the effort to get up there next time I was in The Beltway. I've never been to NYC before, so why not now?
200 miles and $20 in NJ Turnpike tolls later I found myself driving through Lower Manhattan for the first time. Once I found parking near my
crack house of choice
the city was mine for the taking.
I started out around Greenwich Village and 5th Ave. As a NYC novice I noticed how different the people were immediately. 80% of the folks walking by had a cigarette in one hand, their IPod headphones in one ear, and their cell phone headset in the other ear. Nothing out of the ordinary I guess. The big difference was their eyes. Most of the people that looked local were 'off' in some other world. Maybe it was because it was 5pm on a Thursday, or maybe it was because they were just 'zoning', but the people were lost in their own little space. I'm assuming that's how they cope with the city.
The subway system was easy to figure out. I bought a 6 trip pass for 10$ and headed up to Times Square. Two words: Tourist Trap. Wall to wall tourists who were dressed nearly as tacky as I was. Lots of lights, screens, TV studios, and places to eat.
The best part about Time Square was coming across this news headline scrolling along the ABC News studio. I hadn't heard about our Air Force brothers dropping a couple of GBUs on Zarqawi's forehead until then. Kick Ass! Best news I've heard in a long time.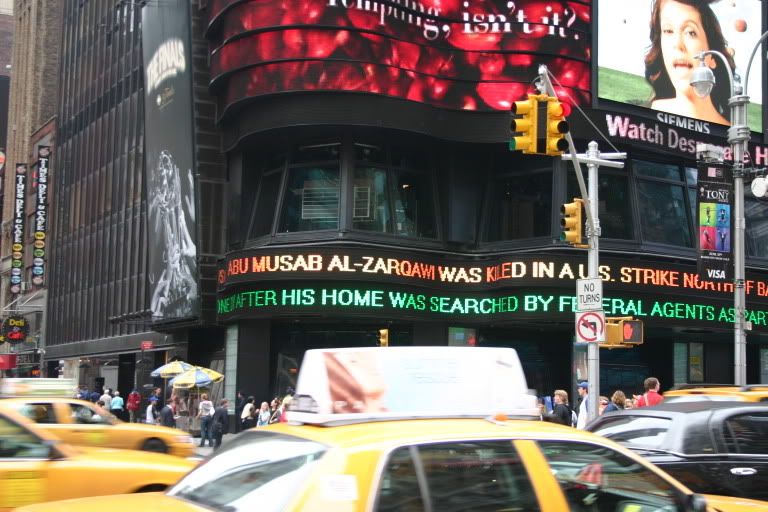 Zed is dead baby... Zed is dead.

After that I hopped back onto the subway intending to get to the World Trade Center. My one mistake on the trip was that I took the wrong line. Once I noticed that the people sitting around me weren't talking English anymore I knew it was time to jump off. It was the right decision to make because I ended up in China Town. After the best and biggest $3.75 bowl of noodles and shrimp I've ever had, I walked a mile or two to the WTC site.

Not much I can say other than it was everything I hoped it would be. Solemn, thought-provoking, enraging, inspiring... I am very lucky to have seen it with my own eyes. Every American needs to see it before they build the ridiculous and offensive 'Freedom Tower'.


The most touching thing I came across. A tile made by the child of a 9/11 victim.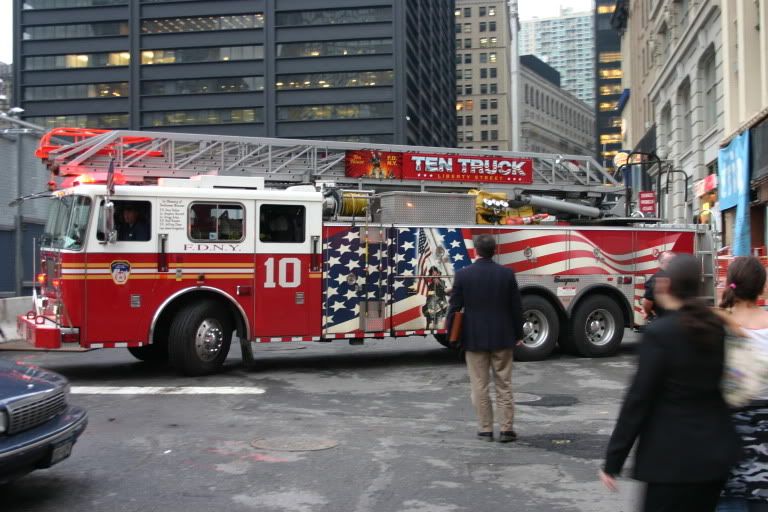 Ironically, Cox and Forkum recently asked the same question I kept asking while walking around the pit that was once the World Trade Center?
Where's the memorial
?
To be continued....
posted by El Capitan at 12:47 PM

---
3 Comments:
airforcewife said...
Dude, the train's usually cheaper.

And you were not too far from us! Ya should have visited for some BBQ... :)
4:46 PM
Toni said...
I loved visiting NYC. I would have to say tho that Times Square just kinda left me flat. I mean it was busy and all but?? I loved visiting the USS Intrepid, Central Park, Xmas at Rock Ctr. We spent hours at the Chapel and WTC site. Those drawings by the children were so sad, I wish more Americans would remember the actions that day and realize we are at war. Have fun for the rest of your visit.
9:01 PM
Melinda said...
thanks for posting the cool pics from your trip to NYC. The photo from the 9/11 victim's child brought tears to my eyes!

Haven't even been lurking lately, but I have you back on my favorites folder list (I had to get a new computer for school & I'm still moving stuff around!) and will try to visit between trying to get smart and sleeping.
9:28 AM